Trip Through the Panama Canal
by Joel Bermanpublished on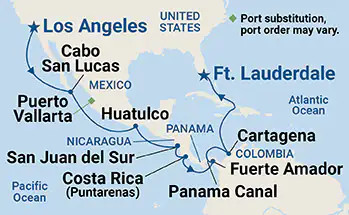 We did this cruise many years ago through the original locks and wanted to do a transit through the new locks to see the difference.  The old locks could take a freighter with about 5,000 containers, the new locks can handle one with 15,000 containers.  And while both sets of locks use gravity fed water from the huge amount of rain, the new locks diffuse the incoming water much better so the locks, even through much bigger, fill much quicker.
I read David McCullough's "The Path Between the Seas: The Creation of the Panama Canal, 1870-1914" which was much more interesting than what I had learned in school.  Especially about the financing of the project.
I tend not to retouch pictures and the gallery is mostly birds from the Colombia National Aviary in Cartagena.
And I am trying to add a lot of content quickly so I will have to go back and caption the photos later.